- Over Reach Protection - Anatomically Contoured
- Shockproof Protection - Multi Layer Comfort

- Breathable Fabric - Dirt and Mud Barrier
Mud fever boots are ideal for protection during turnout...
These advanced high-cut mud fever boots are made with Air-Teque ventilated neoprene for maximum breathability. Anatomically shaped to provide superior comfort for your horse whilst supporting the cannon bone and soft tissues. Fatigue is reduced in the tendon, fetlock, ligaments and suspensory. The boots cover the whole of the lower leg and pastern area, making them great for use as a preventative measure against mud fever and chills. Suitable for year-round use in paddocks. Can be used on both front and hind legs.
Turnout Boots - Material Properties...
The fabric layers work together to distribute even airflow and manage heat removal. Excellent stretch and recovery properties allow the boot to mould and retain shape without impeding the natural action of a horse moving.
Pique jersey outer and lining wicks away moisture, is highly breathable, quick drying and soft to the touch. Perforated neoprene allows heat from the leg to escape and cool air to enter the boot and circulate the leg. It also does not retain water.
Mud Fever Boots: Key features...
Optimum mud fever defence
Highly breathable Air-Teque specialist fabric
Contoured comfort fit
Shaped around the fetlock
Lightweight durable design
Maximum airflow and breathability
Year-round turnout protection
Extra strong and flexible straps
Maximum comfort
Use for up to 12 hours at a time
Can be used on both front & hind legs
Sold in pairs
Care/Washing instructions...
First remove hair & dried sweat with brush. Then ensure all fastenings are closed and machine wash at 30º using non-bio liquid. We recommend washing inside our 'Horse Boots Wash Bag'. Dry naturally away from direct heat sources.
(PEIMF)
| | |
| --- | --- |
| SKU | PEIMF |
| Brand | Premier Equine |
| Shipping Weight | 1.2000kg |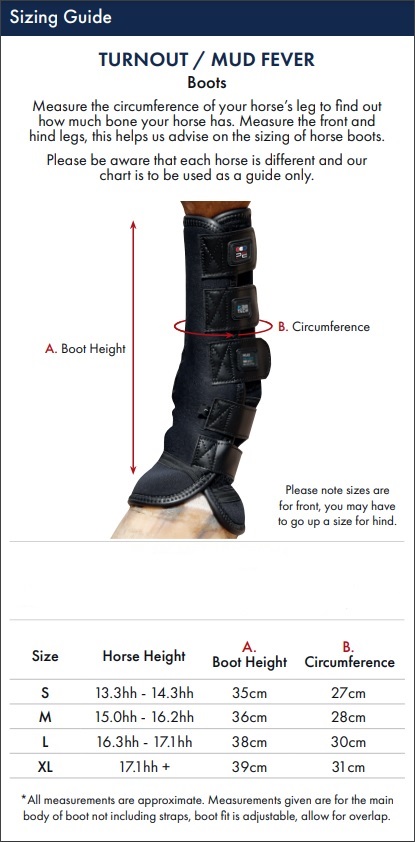 Fast Dispatch
This item is usually posted within 1 business day. You will receive an email with your shipment / tracking number upon dispatch.
We deliver our orders via Australia Post or Fastways Courier. You will be able to choose from the available shipping options at the checkout.
Please note Australian orders over $100 that select free shipping will be sent by the cheapest available method for your area.
30 Day Returns
This item is covered by our 30 day return policy. Please take care to keep it clean and all swing tags, packaging etc intact the first time you try it on because you are most welcome to return it within 30 days for a full refund or size exchange.
We even offer a discounted returns post pack for your convenience.
Well Designed Product

By:

Ann Chase

on 12 April 2022

My daughter purchased these for her boy who is suffering quite badly with Greasy Heel this year. They fit him very well and have definitely helped with the healing process. We have felt it necessary to purchase a second pair as the boots need some time to dry out and it has been raining constantly so the mud hasn't dried up very much. He is much more comfortable wearing them and there have been no issues with retained heat or rubbing of the legs. Would recommend.




(5)
Premium Equine Turnout/Mud Fever Boots

By:

Lily Rae

on 24 June 2021

Have had great results since receiving these boots . Our pony has sensitive back legs due to his white socks and has had mild mud fever . Since using these boots his legs have cleared up perfectly . Highly recommend them to anyone wanting to protect their horses legs whilst out in the paddock during the day .




(5)
Mud turnout boots purchase

By:

Kim Becker

on 29 May 2021

Great service and communication regarding product available. Very friendly staff




(5)
Mud fever boots

By:

Belinda Hackney

on 27 April 2021

I use these on a horse with hock arthritis. The boots keep his legs warm overnight and stop his hock wraps slipping down in the paddock. The mud boots fit very well, stay in place and don't pick up grass seeds




(5)
Mud fever boots

By:

TerryAnn Drysdale

on 23 April 2020

Great paddock boot, good fit easy to use and protects legs and easy to wash




(5)
Turn out boots

By:

Karla Cusack

on 20 September 2019

They fit amazingly well... look so smart and are standing up well to wear and tear. Excellent paddock leg protection for a playful energetic Warmblood




(5)
SO impressed!

By:

Karla

on 20 September 2019

The fit and quality of these boots is amazing! My big chunky 16.3hh Warmblood fit the Large perfectly. Very supportive and well made boot.




(5)
Quality product

By:

Sallyann Robinson

on 5 November 2018

Great quality and a good fit.




(5)
Mud fever boots

Fantastic product and a great fit.




(5)
Mud fever boots

By:

Lisa Brown

on 1 May 2017

I purchased these boots as my horse has white sox ,is prone to greasy heal and is mostly in his paddock as his shelter he can come and go from freely. At the time of purchase he had a case of greasy heel up the inside cannon. The boots were perfect, it kept the leg and pastern area dry (vet cream applied to the leg was nicely inplace) and mud free and that was after 40 mil of rain and horse running around a paddock. Were easy to wash in the bag provided for the washing machine. I feel they are very good quality, fit well, were not tight or restricting, flexible and did not heat the leg up. I would highly recommend these boots.




(5)