The Tiziano Rondine Top is DeNiro's newest model which is already proving to be a popular choice for showing and dressage riders due to it's modern fitted ankle with an elegant rondine top.

These boots have gained the maximum respect for both comfort and quality due to their sturdy Vibram sole, developed and tested for high quality perfomance.

Made from your choice of the finest brushed Italian leather or patent leather, with a square toe and concealed offset zip to the left of the boot, and reinforced leg. They have a standard bow height but can be made with a higher bow at no extra cost.

Like all DeNiro boots, they are made using Water Resistant Advanced Treatment (WRAT) which uses Hydrophobic materials that are bonded during tannage to form a water resistant and wind crack resistant barrier.

Click here for measuring instructions
Click here for the DeNiro size chart - DeNiro boots are able to be custom made to your measurements for an additional cost if required.
Please note that these are not a standard stock item so please measure carefully to ensure correct sizing. Feel free to call us on (02) 4730 1010 - we are always happy to help you with sizing and advice over the phone.

DeNiro boots are handmade in Italy, approximate production time is 8-10 weeks.
(DTIZRT)
| | |
| --- | --- |
| SKU | DTIZRT |
| Brand | DeNiro |
| Shipping Weight | 2.0000kg |
It's best to wear your socks and breeches when taking measurements.
Stand with a slightly bent leg. Have your friend measure from the back of the knee – in the crease, directly down to the floor where your heel reaches the floor. (We find it best to bend your leg at the angle you ride with as people that ride with a short stirrup prefer a shorter boot than those that ride with a long leg.)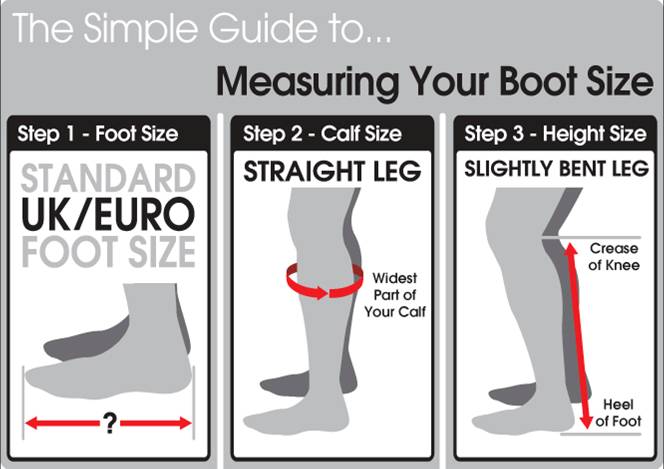 Taking your calf width measurement
It's best to stand up to take this measurement. Have your friend measure the widest point of your calf (as above, middle image) and take the measurement. Most people have one calf wider than the other so don't forget to measure both calves :)
Your foot size
This is your usual European shoe size (check your current shoes most will list US, UK and EU size - you want the EU size. Alternatively click here to view the shoe size conversion chart.) Please note Deniro are on the large size so if you are between sizes you will probably want the smaller of the two. We are more than happy to measure along the outside sole of the boot if you would like to compare it to your current boots.
Finally
You now have your three measurements; calf height, calf width and shoe size.
As it can take a little while for the boots to drop, you may want to wear heel lifts to prevent discomfort and allow the boots to drop naturally. You'll find those here.
At Ashbree Saddlery we understand that buying long boots is an investment and we are always happy to help :) If you have any queries or need further instructions, please don't hesitate to contact us.
Please measure carefully, made to order items are not returnable.
If you have any questions at all please don't hesitate to ask, we are always happy to help.
Here's a few pointers to help ensure you get the correct measurement.
Have a friend do the measurements for you.
Wear your usual riding attire.
Don't take measurements first thing in the morning as your legs may swell during the day.
Measure your tape measure against a ruler to check accuracy (occasionally they stretch over time).
Custom MTM De Niro Tiziano Rondine Top

By:

Madeleine Way

on 9 November 2017

I absolutely adore my De Niros. They are my first Pair of Long Boots and they are perfect. The girls at Ashbree were amazing and answered every little question, made sure my boots were exactly as I imagined and delivered before the first show of the season as promised. They took very little to wear in and have an amazing fit. Thank you Ashbree!




(5)