The S2601 is made using the best quality Italian calfskin leather. Perfect for all manner of equestrian disciplines.
The S2601 undergoes DeNiro's unique Water Resistant Advanced Treatment (WRAT). The treated leather still retains it's breathability, allowing sweat to escape, while preventing outside water from seeping in. Vibram anti-slip outer soles keep your feet secure in the stirrups, even in the worst weather.
Extra customisations such as different leather colours and types, and top and toe cap decorations also avaliable - contact us if you have would like to see more options or if you have something particular in mind!
Note: these are a made to order, non-returnable item so please measure carefully to ensure correct sizing. Follow link to measuring instructions: https://www.ashbree.com.au/measuring-for-deniro-tall-boots/
Handmade in Italy. Please check current production times here: DeNiro Boot Updates.
(DS2601B)
| | |
| --- | --- |
| SKU | DS2601B |
| Brand | DeNiro Boot Co. |
| Shipping Weight | 3.0000kg |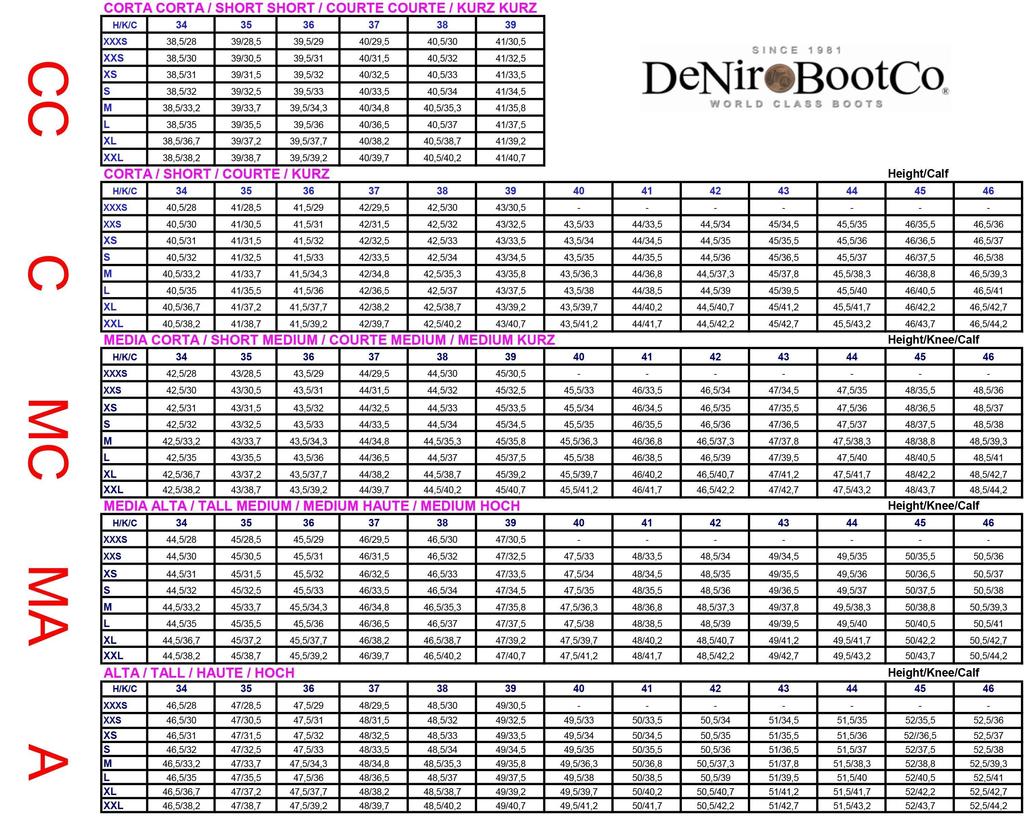 Please measure carefully as made to order items are not returnable. Please don't hesitate to ask any questions as we are always happy to help! :)
Outstanding service to fix an error that wasn't th

By:

Sue Thompson

on 16 May 2019

I cannot speak highly enough of the service provided by Ashbree Saddlery, specifically Deb & Kathleen. I ordered a pair of made to measure De Niro Top Boots in Feb 2018 through another supplier (who is no longer in business). The boots arrived in May 2018 & they did not fit & were not 100% what I ordered. Another pair of boots was ordered by the same supplier & the replacements boots arrived in Dec 2018 & they still didn't fit & still weren't what I ordered! After numerous attempts to resolve this problem with the supplier I simply gave up........& I was referred to Ashbree as a friend had successfully purchased De Niro boots through them. Deb was very understanding of the problems I was dealing with & offered to contact De Niro & try to sort the situation. I am extremely grateful to the service offered when Deb & Ashbree Saddlery stood to gain no monetary benefit from doing so. I now have an absolutely perfect pair of De Niro boots thanks to the efforts of Ashbree Saddlery & De Niro who got everything sorted. I would highly recommend Ashbree Saddlery to order your De Niro boots through!




(5)
DeNiro Long Boots

By:

Kelly Allen

on 9 December 2016

I can't believe the quality, craftsmanship and amazing value for money of DeNiro boots. I will never buy anything else. My whole riding career I could never buy long boots as nothing off-the-shelf fitted me and custom-made boots were out of my price range. So I was over the moon when I found the DeNiro boots at Ashbree. The team at Ashbree helped me with sizing and advice. The end result; the most comfortable yet beautiful boots that fit me like a glove. I get compliments every time I wear them.




(5)
Super boots!!!

By:

Kirstie

on 30 March 2015

This is the second pair of Cesare boots I have bought, my first ones I wore in competition for 7 years before treating myself to a nice new pair and keeping the old ones for everyday wear. They are so comfy and just beautiful to look at. DeNiro will always be my first choice for top boots!




(5)
elegant boots - beautiful fit

By:

Wendy Lord

on 25 June 2014

I bought these boots for my son for his birthday. We had had difficulty buying off-the-shelf boots in his size as he is tall and slim and all the boots that we had tried were too big around the calf. The instructions on the website were great and the Ashbree contact was very helpful. The estimated delivery time was approx. 10 to 12 weeks but the boots arrived about 5 weeks after ordering them. They arrived in beautiful condition, are a perfect fit and look great on. The finish on the boots is lovely too - a quality product.




(5)
Deniro Top Boots

By:

Jenny

on 31 March 2014

I was very nervous about buying top boots online for my daughter in case they didn't fit correctly but I need not have worried. They fit perfectly! It took around 2 weeks of riding in them to really break them in and she now says they are so comfortable. I have had many people comment on the great shape of them and the fact they do not sag around the calf or ankles like so many others. We are very happy and will be buying an extra pair!




(5)
boots

By:

Lou

on 3 February 2014

After lots of careful measuring and advice, boots arrived and are perfect fit. Nice leather.......very pleased with our purchase as i was a bit nervous about such an expensive purchase!! Thanks Ashbree!




(5)
Love these boots!

24 May 2013

Classical lines and beautifully finished. A great set of boots at a reasonable price.




(5)
Fantastic boot at a great price!

By:

Adam

on 16 February 2012

This is the biggest online purchase I have ever made for equestrian gear, and I was worried that my measurements (which I followed from the guide) would somehow be wrong and I would end up with a bad fitting pair of boots. But they are fantastic and fit perfectly! The leather is super soft and very high quality, and the finish is top notch. I highly recommend these boots to anyone, as well as Ashbree Saddlery to purchase them from - they are super helpful and quick. Cheers, Adam




(5)