The De Niro S2602 long boot is a beautiful laced riding boot hand made using only the finest Italian leather. These boots are perfect for all manner of Equestrian disciplines or just for simply stylish riding. The interior of the boot is grain calfskin lined, designed to add comfort for the rider and the upper of this boot features top quality grain leather. This classic boot features the De Niro branded full length zip to the rear with zip guard for ease of use and also features the unique square toe design, completed with a strong Vibram sole to ensure your boots will last with time. De Niro boots are made using WRAT Technology - this is a water resistant advanced technology that uses hydrophobic materials that are bonded to the leather structure during tannage to form a protective barrier which will last the entire life of the boots. This makes the boots stay lighter in wet conditions and easier to care for.
Colour: The pictured boot is Brandy, can also be made in black, brown or burgundy
Made to order item, delivery 8-10 weeks
(DS2602)
| | |
| --- | --- |
| SKU | DS2602 |
| Brand | DeNiro |
| Shipping Weight | 2.8000kg |
It's best to wear your socks and breeches when taking measurements.
Stand with a slightly bent leg. Have your friend measure from the back of the knee – in the crease, directly down to the floor where your heel reaches the floor. (We find it best to bend your leg at the angle you ride with as people that ride with a short stirrup prefer a shorter boot than those that ride with a long leg.)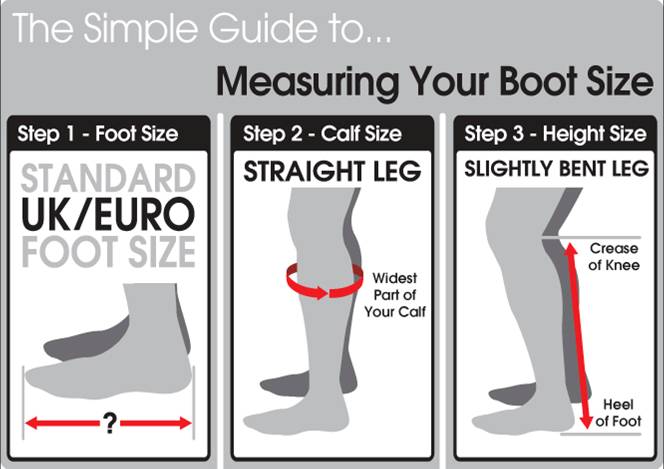 Taking your calf width measurement
It's best to stand up to take this measurement. Have your friend measure the widest point of your calf (as above, middle image) and take the measurement. Most people have one calf wider than the other so don't forget to measure both calves :)
Your foot size
This is your usual European shoe size (check your current shoes most will list US, UK and EU size - you want the EU size. Alternatively click here to view the shoe size conversion chart.) Please note Deniro are on the large size so if you are between sizes you will probably want the smaller of the two. We are more than happy to measure along the outside sole of the boot if you would like to compare it to your current boots.
Finally
You now have your three measurements; calf height, calf width and shoe size.
As it can take a little while for the boots to drop, you may want to wear heel lifts to prevent discomfort and allow the boots to drop naturally. You'll find those here.
At Ashbree Saddlery we understand that buying long boots is an investment and we are always happy to help :) If you have any queries or need further instructions, please don't hesitate to contact us.
Please measure carefully, made to order items are not returnable.
If you have any questions at all please don't hesitate to ask, we are always happy to help.
Here's a few pointers to help ensure you get the correct measurement.
Have a friend do the measurements for you.
Wear your usual riding attire.
Don't take measurements first thing in the morning as your legs may swell during the day.
Measure your tape measure against a ruler to check accuracy (occasionally they stretch over time).
Love at first sight!

Seriously the best boots ever!!!! Ordering was seamless, quality workmanship and they fit like a glove straight from the get-go. No breaking in required at all!! Highly, highly recommend.




(5)
Love my new boots!

By:

Kristin Lyons

on 31 May 2017

Hi there, just want to let you know that my new Deniro boots are the most comfortable boots I've ever had and they are beautiful!!! Love them, thanks




(5)
De Niro boots

By:

Taylor

on 19 March 2017

Ordered custom de Niro boots, fit perfect. Deb from ashbree made this process easy and would definitly recommend these boots from ashbree




(5)
Simply the best

By:

Monique

on 22 November 2016

These boots are unbeatable in terms of value for money - they are amazing quality - fit so well, yet are affordable. I get compliments whenever I wear my showjumping boots and I have finally received my new dressage deniros and again no breaking them in - they fit and are so comfortable from the first second. I would not buy any other boots after owning Deniros!!




(5)
Beautiful boots

By:

Renee

on 14 October 2016

My boots arrived today and they are not only exceptional quality but they fit perfectly. Very happy!




(5)
Deniro Boots

Top Quality Boots!!! The Ashbree Team were very helpful in helping me find the right boots for me. Boots came fairly quickly and fit perfectly and look amazing. Very impressed, would highly recommend these boots to everyone looking for an exceptional pair of boots at a reasonable price.




(5)
Finally a long boot that fits

By:

Monique Batterham

on 19 August 2015

I have always had to ride in boots and gaiters thanks to bigger calf muscles from my cycling days. I was a little dubious when I ordered these but I had heard rave reviews from friends so I decided to give it a go. I could not be happier - they fit like an absolute glove. I thought they would be too big around the ankle, but not at all. I get so many compliments whenever I wear them at showjumping days. Now I'm saving up to get a black pair for dressage. And for the quality, the price is more than reasonable. And as usual I got the best service from Deb and Kathleen. They are awesome.




(5)
Love love love!

As we pretty much all know a purchase as big as a pair of new boots is something that requires a lot of consideration. Ashbree made this process very easy for me with their customer service going above and beyond to help make this process as smooth as possible. And of course I absolutely love these boots! Super comfortable, fit like a glove, super quality and make at quite a reasonable price all things considered! The fact that you can get them custom made for you leg as well as adding whichever options you like (I added spur studs with top and bottom zip guards) guarantees that you get what you really want and can be made for anyone! Highly recommended :) Thanks again Ashbree Saddlery! You guys rock! :)




(5)
Best fit

By:

Shirley

on 16 April 2015

I have larger calves but smaller ankles. This is the first pair of boots that have fitted me and I get compliments whenever I ride in them. I can't see that I will ever ride in anything else - the best ever!!




(5)