The Raffaello boot is a beautifully designed boot featuring the elegant rodine top. Made from your choice of the finest brushed Italian leather or patent leather giving this boot an elegant contouring shape that elongates the rider's leg ideal for Dressage.
The Raffaello will make you stand out from the crowd with its unique detailing along the top and features the inner offset zip for increased comfort, allowing the rider more contact between the leg and the horse.
All De Niro boots are made using De Niro's WRAT (Water Resistant Advanced Treatment) technology which uses hydrophobic materials that are bonded to the leather structure during tannage to form a protective water, wind and crack resistant barrier.
The main features of the Raffaello boot is the patent leather trim along the top of the rodine top and down the spine of the boot, brushed leather boot (or patent leather), Vibram sole, offset inner zip with press stud and finished with the traditional De Niro pin.
Please note these boots are made to order in Italy approximate delivery time is 10 weeks. Click here for measuring instructions and here to view the site chart.
If you have any questions please don't hesitate to ask, we are always happy to help :) Contact Us
(DRAF)
| | |
| --- | --- |
| SKU | DRAF |
| Brand | DeNiro |
| Shipping Weight | 2.0000kg |
It's best to wear your socks and breeches when taking measurements.
Stand with a slightly bent leg. Have your friend measure from the back of the knee – in the crease, directly down to the floor where your heel reaches the floor. (We find it best to bend your leg at the angle you ride with as people that ride with a short stirrup prefer a shorter boot than those that ride with a long leg.)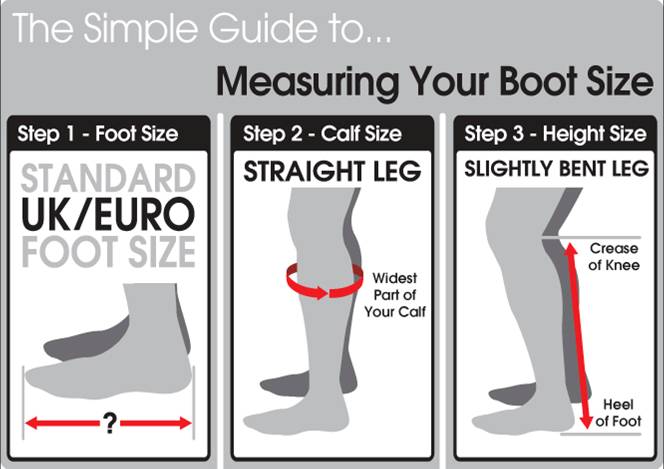 Taking your calf width measurement
It's best to stand up to take this measurement. Have your friend measure the widest point of your calf (as above, middle image) and take the measurement. Most people have one calf wider than the other so don't forget to measure both calves :)
Your foot size
This is your usual European shoe size (check your current shoes most will list US, UK and EU size - you want the EU size. Alternatively click here to view the shoe size conversion chart.) Please note Deniro are on the large size so if you are between sizes you will probably want the smaller of the two. We are more than happy to measure along the outside sole of the boot if you would like to compare it to your current boots.
Finally
You now have your three measurements; calf height, calf width and shoe size.
As it can take a little while for the boots to drop, you may want to wear heel lifts to prevent discomfort and allow the boots to drop naturally. You'll find those here.
At Ashbree Saddlery we understand that buying long boots is an investment and we are always happy to help :) If you have any queries or need further instructions, please don't hesitate to contact us.
Please measure carefully, made to order items are not returnable.
If you have any questions at all please don't hesitate to ask, we are always happy to help.
Here's a few pointers to help ensure you get the correct measurement.
Have a friend do the measurements for you.
Wear your usual riding attire.
Don't take measurements first thing in the morning as your legs may swell during the day.
Measure your tape measure against a ruler to check accuracy (occasionally they stretch over time).
Great quality, excellent fit boot and wonderful se

By:

Katherine Janus

on 23 May 2018

Having owned my gorgeous De Niro boots for 5 months now, I can honestly say that I am still as happy with them today as the day I first slipped them on. Deb from Ashbree kindly opened the store to me on a Saturday morning and patiently and diligently took my measurements to ensure that my custom-fit boots would fit perfectly (and they do fit perfectly). The quality of the De Niro boot means that it looks and feels wonderful, and I love the vibram soles, which are great for wet surfaces in and around the stable. Would highly recommend this product to any dressage rider (and have done). I also can't say enough wonderful words about Ashbree's customer service!




(5)
Awesome

By:

Rachael Downs

on 15 November 2017

Ashbree were incredibly great. Kept us informed through the whole process and our boot are fantastic. Highly recommend Ashbree Saddlery for De Niiro boot orders and any other orders. Visit or online.




(5)
Boots

By:

Viv MOTBEY

on 19 July 2017

The de Niro boots I purchased are simply amazing. They turned out better than expected and quicker than expected. The attention to detail when measuring my damaged legs was fantastic and ensured a great fit. Would not hesitate to use ashbree saddlery as the conduit to de Niro boots.




(5)
Fantastic boots

By:

Ben

on 20 August 2015

Look just like in the photos, these boots are stunning. Great service and timely delivery




(5)
The BEST!!!

By:

Mary Warren

on 4 June 2015

These were the first boots I've ever ordered online and I am very pleased with the result!! They look fantastic and you feel fantastic when wearing them at competitions! Quality plus!! Thank you Deb for helping me choose the right sizing and keeping in touch with the updates :) I think I'm going to be a Deniro customer from now on




(5)