Measuring for long boots


Each boot manufacturer has different techniques for calf measurements so please read the details below when measuring for Deniro and Brogini Long Boots. If you've had surgery or have swelling in your legs/feet please let us know as you will need to take additional measurements.
It's best to wear your socks and breeches when taking measurements.
Taking your calf height measurements - Deniro & Brogini Long Boots
Stand with a slightly bent leg. Have your friend measure from the back of the knee – in the crease, directly down to the floor where your heel reaches the floor. (We find it best to bend your leg at the angle you ride with as people that ride with a short stirrup prefer a shorter boot than those that ride with a long leg.)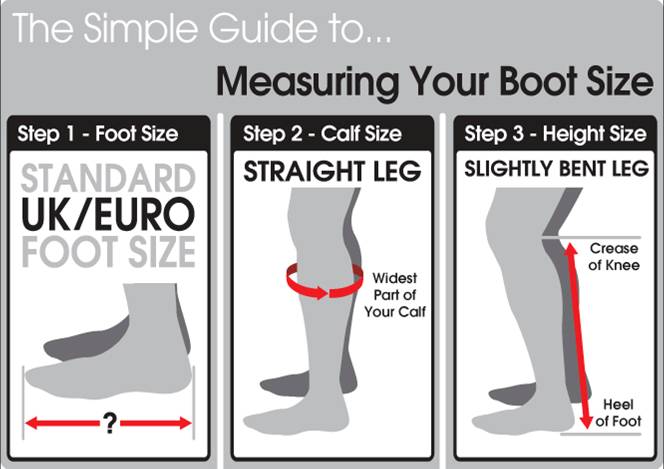 Taking your calf width measurement - for all boots
It's best to stand up to take this measurement. Have your friend measure the widest point of your calf (as above, middle image) and take the measurement. Most people have one calf wider than the other so don't forget to measure both calves :)
Your foot size - for all boots
This is your usual European shoe size (check your current shoes most will list US, UK and EU size - you want the EU size. Alternatively click here to view the shoe size conversion chart.) Please note Deniro are on the large size so if you are between sizes you will probably want the smaller of the two. We are more than happy to measure along the outside sole of the boot if you would like to compare it to your current boots.
Finally
You now have your three measurements; calf height, calf width and shoe size.
As it can take a little while for the boots to drop, you may wish to wear heel risers to prevent discomfort and allow the boots to drop naturally.
At Ashbree Saddlery we understand that buying long boots is an investment and we are always happy to help :) If you have any queries or need further instructions, please don't hesitate to contact us.
Measuring tips to get the best fit.
Wear your usual breeches and socks
Measure the widest part of both calves and go by the widest calf. If you have any doubt send us your measurements and we'll help you work out the best size.
Don't measure first thing in the morning as your legs often swell during the day.
Get a friend to measure you.
Compare your tape measure to a ruler to double check accuracy. Occasionally they stretch over time.
Pretend you are in the stirrups and bend your leg at the angle you ride with. Get the person measuring to dig the ruler into the back of your leg at the crease to make sure the are measuring from the right place.