A beautifully crafted long boot, yet at a more affordable price tag, made from soft-quick calfskin leather, therefore easily adapting to the shape of the leg. The interior of the boot is lined with grain calfskin. Intricate stitching adornes the lower portion fo the boot gradually into the leather and rubber sole. The sole allows for cushioned comfort making it easier to ride in.
The boot is made equally as easy to put on, with the zip to the rear of the boot, secured with a zip guard at the top and lined with elastic to the right hand side of the zip. The elastic panel will stretch up to 1.5cm so it will fit a wider range of sizes.
Click for measuring instructions and to view the size chart.

These boots are avaliable with or without laces, and in black, brown or blue leather (brown and blue by special order)
In stock sizes will be dispatched within 1 business day, other sizes can be made to order in Italy. Made to order generally takes 8-10 weeks.
If you have any questions please don't hesitate to ask, we are always happy to help :) Contact Us
(DS3311)
| | |
| --- | --- |
| SKU | DS3311 |
| Brand | DeNiro |
| Shipping Weight | 3.0000kg |
It's best to wear your socks and breeches when taking measurements.
Stand with a slightly bent leg. Have your friend measure from the back of the knee – in the crease, directly down to the floor where your heel reaches the floor. (We find it best to bend your leg at the angle you ride with as people that ride with a short stirrup prefer a shorter boot than those that ride with a long leg.)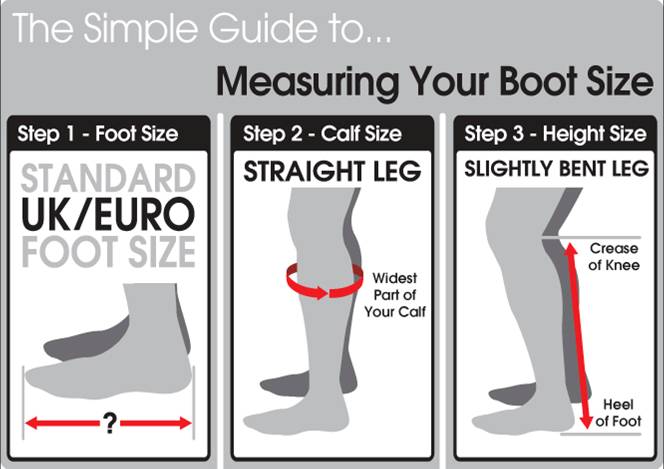 Taking your calf width measurement
It's best to stand up to take this measurement. Have your friend measure the widest point of your calf (as above, middle image) and take the measurement. Most people have one calf wider than the other so don't forget to measure both calves :)
Your foot size
This is your usual European shoe size (check your current shoes most will list US, UK and EU size - you want the EU size. Alternatively click here to view the shoe size conversion chart.) Please note Deniro are on the large size so if you are between sizes you will probably want the smaller of the two. We are more than happy to measure along the outside sole of the boot if you would like to compare it to your current boots.
Finally
You now have your three measurements; calf height, calf width and shoe size.
As it can take a little while for the boots to drop, you may want to wear heel lifts to prevent discomfort and allow the boots to drop naturally. You'll find those here.
At Ashbree Saddlery we understand that buying long boots is an investment and we are always happy to help :) If you have any queries or need further instructions, please don't hesitate to contact us.
Please measure carefully, made to order items are not returnable.
If you have any questions at all please don't hesitate to ask, we are always happy to help.
Here's a few pointers to help ensure you get the correct measurement.
Have a friend do the measurements for you.
Wear your usual riding attire.
Don't take measurements first thing in the morning as your legs may swell during the day.
Measure your tape measure against a ruler to check accuracy (occasionally they stretch over time).
Deniro boots

By:

Julie Purnell

on 1 November 2017

This is my 2nd pair of the soft Deniro boots. I love them so much as they are very comfy with little breaking in and a great price.




(5)
Deniro Long Boots

By:

Narelle

on 25 April 2017

I LOVE my Deniro Soft Leather Long boots. As a small person with short legs these are the first boots I've owned that do not hurt to break in. I have two pairs, one with laces, one without, equally comfortable. Great value for money. Would love to lash out on a flash coloured pair... :) Great service from Ashbree always.




(5)
Fantastic prduct great service

By:

Jon Walker

on 25 July 2014

I have recently purchased a pair of Deniro top boots and am over the moon with the quality and price of this product , they were purchased through Ashbree Saddlery who were unbeleivable to deal with , their level of customer service and professionalism was above and beyond , I would recommend both the product and Ashbree Sadderly very highly to anyone Jon Walker




(5)